The weather today is horrid. Rain, wind, cold…you name it. I needed something to cheer myself up, so I decided to have a very beautiful, colourful, nutritionally rich breakfast. And despite the fact that this is still January, we do have daffodils already flowering in the garden, so I picked up a few to brighten up the house.

Have you ever heard of smoothie bowl? Basically it's the same thing as smoothie, but usually a bit thicker ( with the help of avocado or extra banana), so you can eat it with the spoon and add many lovely things to it. The best thing about smoothie bowls is that you can make them into a complete nutritious meal with the simple addition of a few blend-in ingredients and toppings.

My favourite smoothies are those with aded greens, so it was the obvious choice for my bowl, but you are welcome to make any smoothie you like, the bowls are totally customisable.

A couple of days ago I managed to buy a dragon fruit – that beautiful purple fruit which grows in Asia and which I can't get enough of every time I'm back in Thailand
So, I topped my smoothie bowl with it.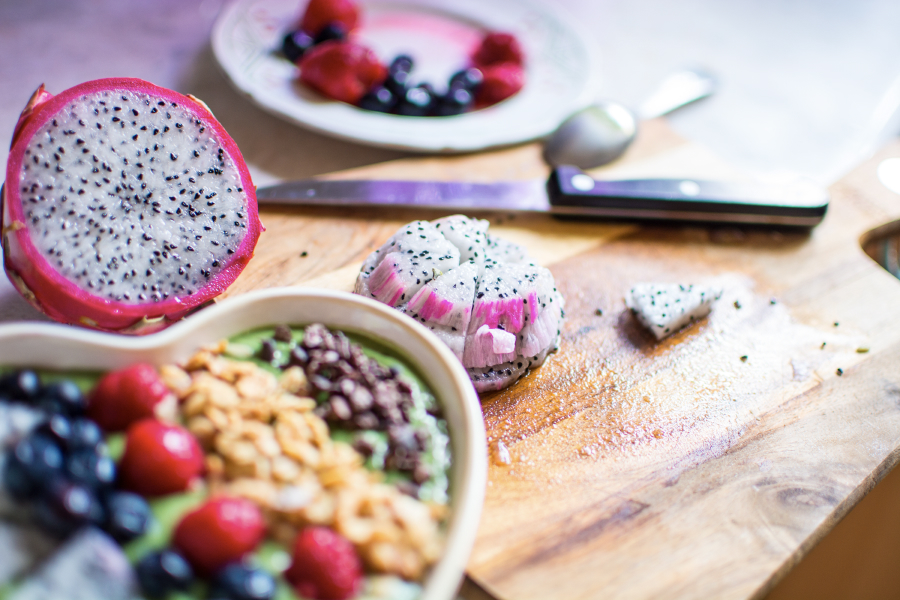 I also added some blueberries, raspberries, cacao nibs, and gluten free UDI's granola. I usually make granola myself, but this time I have to admit it was a store bought one

The end result was very yummy, both my husband and son have finished their bowls in about 2 minutes (well, we all know about the benefits of slow mindful eating but it simply wasn't the case this time)
It's a good, easy breakfast or snack, and by adding a spoon of various superfoods to your smoothie, you can make it a really powerful meal. In my smoothies I like to alternate superfoods such as spirulina, chlorella, acai or baobab powder, flax or chia seeds and aloe vera juice. Just add one or two, not too many together.



What I usually add to my green smoothies:
Greens ( kale, spinach or chard)
Avocado for healthy unsaturated fats and richness
Sweetness from fruits such as bananas, pears and dates.
Orange for extra vitamin C and fresh taste
Nuts or spoon of nut butter for extra protein

For toppings you may choose from:
Sunflower/pumpkin/sesame/hemp seeds
Gluten Free Granola or oats
Dessicated or flaked coconut
Any fresh berries
Chocolate nibs
The green smoothie bowl is very easy to prepare and it is very versatile, so you can literally use any ingredients you have at home. Hope you enjoy it!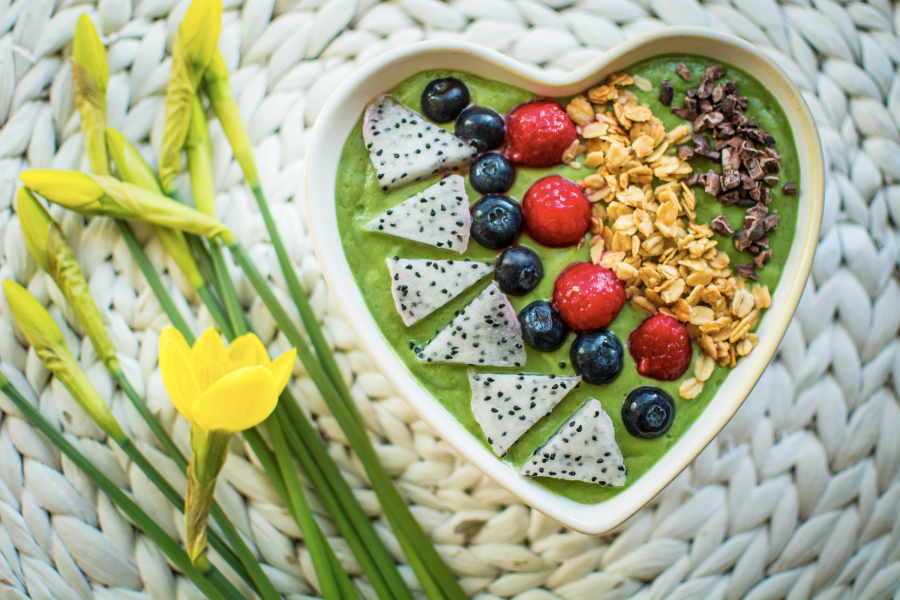 Green smoothie bowl
Serves 2
SMOOTHIE
1/2 ripe avocado
2 medium ripe bananas, previously sliced and frozen
1/2 cup fresh or frozen mixed berries
1 cup of pressed spinach/kale/chard (remove stems from kale and chard)
1 1/2 - 2 cups of water or unsweetened non-dairy milk
1 Tbsp flax seed meal
Optional
1-2 Tbsp almond, hazelnut or peanut butter
2-3 dates for sweetness
TOPPINGS
Sunflower/pumpkin/sesame/hemp seeds
Gluten Free Granola
Raw or roasted nuts
Dessicated or Flaked coconut
Fresh berries
Cacao Nibs
SUPERFOODS (optional)
1 spoon of either
Spirulina powder
Chlorella powder
Acai powder
Baobab powder
A spoon of either
Flax oil
Coconut oil
Hemp oil
Aloe Vera juice
Instructions
Add all ingredients to a blender and blend until creamy and smooth. Add more water if too thick.
Taste and adjust flavour as needed, adding dates for sweetness.
Divide between 2 serving bowls and top with desired toppings!