Most of us have such busy life that I dare to say we completely neglect ourselves when it comes to our bathroom routine. Well, of course we take showers, brush our teeth, wash our hair… But it is all done in about 10 minutes time, usually in a big hurry, either at 6 am before rushing off to work, or sneaking in quickly while baby is sleeping… Sounds familiar, right?
We don't think much of it, it's a part of daily routine but we rarely have time for anything else, things like aromatherapy or even a face or hair mask because we think it takes too much time, don't we? It does indeed, especially if you do it separately.
Have you ever thought of doing it all at the same time, cramming as much goodness as possible in our free 30 minutes? Surely all of us have 30 minutes a week to spare for at least one special bath ritual. I promise – you will look and feel thousands times better. And the best thing about it is that you can squeeze a lot in half an hour.
I have been enjoying those 30 special minutes for a while now, so I thought I might as well share it with you, I hope you also find it useful.
So, let's begin.
What you will need:

Shower Gel
Shampoo
Face exfoliating scrub
Epsom Salt
Hair Mask (store bought or home made)
Face Mask (store bought or home made)
Essential oil
Optional – wine and candles!

Step 1. Wash your hair and body and exfoliate your face. Do not use hair conditioner or any creams/lotions.
Step 2. Fill your bath with a hot water and add 2 cups of Epsom Salt. Yes, you heard me right, Epsom Salt. It may sound quite old fashioned, but believe me, your body will thank you for that.



Most of us know about the importance of iron and calcium for our bodies, but what about magnesium? It is one of the most important minerals in our body. It helps the body regulate over 325 enzymes and plays an important role in bodily functions, like muscle control, electrical impulses, energy production and the elimination of harmful toxins. Epsom salt is magnesium sulphate.
We all are deficient in magnesium, so soaking in a bath with Epsom salt, which is high in magnesium, is one of the easiest ways to get a boost of magnesium, because it is easily absorbed through the skin. While magnesium can be poorly absorbed through the stomach, studies show increased magnesium levels from soaking in Epsom salt bath!
Magnesium deficiency contributes to development of heart disease, stroke, osteoporosis, arthritis and joint pain, digestive problems, stress-related illnesses, chronic fatigue and a number of other ailments.
Our magnesium levels have dropped by half in the last century due to changes in agriculture and diet. Industrial farming has depleted magnesium from soil and the typical Western diet contains much less magnesium than that of our grandfathers. And in fact, the modern Western diet with its fat, sugar, salt and protein actually works to speed up the depletion of magnesium from our bodies.
With such widespread magnesium deficiency you might think that magnesium supplements would be helpful, but studies show that magnesium is not easily absorbed through the gut. The presence of specific foods, drugs, certain medical conditions, and the microflora of a person's gut can make magnesium supplements less effective.




Health Benefits of Epsom Salt Baths


Researchers have discovered these health benefits from proper magnesium and sulphate levels:

Improved heart and circulatory health, reducing blood clots and lowering blood pressure.
Improved ability for the body to use insulin in diabetics
Flushed toxins and heavy metals from the cells
Easing muscle pain and helping the body to eliminate harmful substances.
Improved nerve function by electrolyte regulation. Also, calcium is the main conductor for electrical current in the body, and magnesium is necessary to maintain proper calcium levels in the blood.
Relieved stress. Excess adrenaline and stress are believed to drain magnesium, a natural stress reliever, from the body. Magnesium is necessary for the body to bind adequate amounts of serotonin, a mood-elevating chemical within the brain that creates a feeling of well being and relaxation.
Reduced inflammation to relieve pain and muscle cramps.
Improved oxygen use.
Improved absorption of nutrients, formation of joint proteins and brain tissue
Prevention or easing of migraine.
Two cups of Epsom salt and soaking for at least 15-20 minutes will do the job.
Let's move to the next step.

Step 3. Hair Mask.
Now, while water is filling the bath, put a mask on your hair. You can make it yourself use a store bought one, but please make sure it's free of all nasty additives such as parabens, SLS, phtalates, artificial colours, perfume etc.
I have discovered some time ago in my mother Russia hair products from a company called Natura Siberica that (thank God!) have finally arrived to UK and are selling in shops like Wholefoods and of course online. I really believe that the Oblepikha (sea buckthorn) mask for severely damaged hair is the best hair treatment I ever had. Some years ago I used to use Kerastase masks but they contain way too many chemicals and are very expensive for some reason.



This is where you can get Oblepikha mask and read all about these lovely organic products – https://www.naturasiberica.co.uk/product/oblepikha-mask-for-severely-damaged-hair
My hair are not really severely damaged, but I do dye and blow-dry it, so they are quite dry.
This amazing mask covers and smoothes cuticle scales, makes hair elastic and shiny, makes hair thicker and stronger. Penetrating into each hair, the mask fills it with essential moisture and nutrients, bringing back health and beauty. Vitamins and amino-acids in the formula nourish and repair hair, oils of Altai sea-buckthorn and Moroccan argan help produce keratin, which gives hair shine and strength. Oils of pine nuts and macadamia retain moisture deep in hair structure. Keratin seals hair surface with a protective layer, repairing damaged areas and smoothing hair out, and rendering it shiny and neat in appearance.
After using the mask, hair becomes visibly more bouncy and tame. Apply it 5-7 minutes from roots to the ends after shampooing and then rinse thoroughly. I use it 1 time per week.
It is a totally natural product, parabens, SLS, SLES, PEG, glycols and mineral oils free. It comes in a 300 ml jars, which will keep you around 6 months.


If you prefer DIY masks, here are a few recipes of homemade hair masks, which are incredibly easy to do.


1. Honey Coconut Hair Mask
1 tbsp. Organic Coconut Oil + 1 tbsp. Organic Raw Honey, mix it in a bowl.
2 Egg Hair Mask
2 egg yolk + 2 tablespoon of olive oil, mix in a bowl
add little bit of water to the mixture to make it easier to spread onto hair.
3.Banana Hair Mask
1 to 2 overripe bananas +1 teaspoon coconut oil+ 1 teaspoon olive oil+ 1 tablespoon honey, mix in a bowl.
4. Yogurt Hair Mask
1/2 cup of yogurt +1 teaspoon of apple cider vinegar + 1 teaspoon of honey, mix in a bowl.
5.Creamy Avocado Hair Mask
1 small ripe avocado+1 tablespoon olive oil+ 1/4 cup milk, mix in a bowl.
Now put the shower cap on and move to the next step!


Step 4. Face Mask.
So, now it's your face's turn to get lovely treatment. Again, you can use a store bought face mask or make it yourself.
I found very nice recipes for DIY face masks here but having said that, I am usually use a store bought one myself, of course making sure it's all natural and organic. Sometimes, once in a blue moon when I have free time, I would make one myself, but this is not always the case (sadly!) because I am always too busy!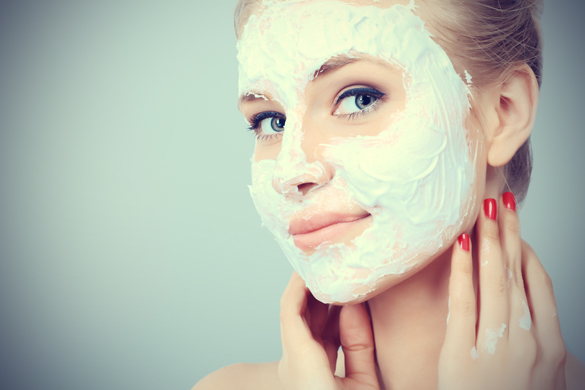 Actually that company Natura Siberica whose hair mask I have just recommended, makes a few lovely face masks too, so usually I am just using one of them. They also have amazing overnight mask, which is probably my favourite as you could just use it instead of your night cream once a week.

Step 4. And now we move to aromatherapy!
When your bath is filled with water and you have added your Epsom salt, your face and hair are covered in masks, now it's time to make your bathroom smell like heaven.



Add a few drops of your favourite essential oil to the bath, lie down and enjoy!
Aromatherapy has tons of benefits for your body and mind, and now is the good opportunity to spend these 20 minutes inhaling beautiful smell, relax and forget about outside world.


So, what is good about inhaling essential oils?
Let me list a few of many benefits aromatherapy provides!

Stress Relief and eliminating feeling of Depression.
The aromatic compounds from many different essential oils are known as relaxants and can help to soothe your mind and eliminate anxiety. Some of the best essential oils for stress relief are lemon oil, lavender, bergamot, peppermint, vetiver, and ylang ylang. Aromatherapy is also very commonly used to eliminate feelings of depression and the best essential oils to use for reducing depression, most specialists suggest peppermint, chamomile, lavender, and jasmine.
Memory. Aromatherapy has often been turned to as an alternative or supplemental treatment for dementia and Alzheimer's disease. This refreshing burst for the brain can be useful in all walks of life, no matter what age you are! Sage oil is the most commonly recommended oil for this sort of memory-enhancing effect.
Boost Energy Levels. Many essential oils are known to increase circulation, raise energy levels, and generally stimulate the body and mind, without the dangerous side effects of other stimulating substances. The best essential oils for giving yourself an energy boost include black pepper, cardamom, cinnamon, clove, angelica, jasmine, tea tree, rosemary, and sage.
Healing and Recovery. As stimulants, many essential oils can help increase the rate of healing throughout the body. This can be due to increased oxygen and blood flow to wounds as well as more internal healing processes like those following surgeries or illness. The anti-microbial properties of certain essential oils also keep the body protected during these delicate healing stages of the body. Some of the most popular essential oils for speeding up the healing process of the body include lavender, calendula, rosehip, and buckthorn essential oils. A number of those same oils do more than heal wounds; they can also reduce the severity and discomfort from skin conditions like psoriasis and eczema.
Headaches. Aromatherapy can be a wonderful solution that can not only eliminate your current headache, but possibly reduce the stress, anxiety, or medical origin of your headaches to prevent them in the future. Some of the best essential oils that have been connected to reducing headaches and migraines are peppermint, eucalyptus, sandalwood, and rosemary essential oils.
Good Sleep. Not getting enough sleep can cause a huge range of medical conditions and can leave us feeling unproductive and devoid of energy. Aromatherapy can provide us with a more balanced sleep and can even realign our Circadian rhythms so our body naturally gets tired at an appropriate time, sleeps restfully through the night, and is energised in the morning to face the day. Some of the best essential oils for managing your sleeping habits and having a healthy, sedative effect on the body include lavender, chamomile, jasmine, benzoin, neroli, rose, sandalwood, sweet marjoram, and ylang ylang essential oils
Immune System. Aromatherapy can give you a serious boost to your immune system if used properly. The anti-microbial effects, as well as the anti-fungal and antibacterial effects can protect you from any number of illnesses and infections that could damage your system. Some of the most effective essential oils that boost your immune system include oregano, frankincense, lemon, peppermint, cinnamon, and eucalyptus essential oils
Pain Relief. Pain relief is one of the most useful applications of aromatherapy. The top essential oils, both for professional and personal use, include lavender, chamomile, sage, juniper, eucalyptus, rosemary, and peppermint essential oils.
Digestion. It can ease constipation, indigestion, bloating, and can speed up the metabolism so food is digested quicker. Citrus essential oils are normally the best for treating digestive conditions, including lemon and orange, but there have also been some studies that have cited ginger, dill, fennel, chamomile, clary sage, and lavender as being effective as well.
I have been indulging myself in the beautiful Jo Malone and Neal's Yard products lately, but you are welcome to use any essential oil or natural aromatherapy product, just make sure it comes from a good shop and is totally natural.
Here is my idea of heaven:

And this



If you like Neal's Yard products as much as I do, you are welcome to shop in my personal online shop and ask me any questions about them.

You can find it here –

https://uk.nyrorganic.com/shop/elinadunford/area/shop-online/

Their products are absolutely lovely, and the bath oils smell divine. And the best thing about them – they are as healthy as it gets.

When formulating and making their products, Neal's Yard is not using anything that could cause you, or the planet harm.
Here's what it all means:
NO PARABENS – linked to oestrogen overproduction
NO SYNTHETIC FRAGRANCES – many contain synthetic chemicals that are harmful to health
NO GMO INGREDIENTS – not enough is known about the long-term implications
NO animal testing – unnecessary and cruel
NO SILICONES – coat the skin, impeding its natural function
NO PHTHALATES – reported to have toxic impact on human and animal life
NO NANO – not enough is known about the long-term implications
NO MINERAL OILS – derived from petroleum, have a tendency to block the skin
NO EDTA – doesn't readily biodegrade
NO PROPYLENE GLYCOL – derived from petroleum
NO CARBOMER – derived from petroleum
NO DEA – associated with known carcinogens
NO ACRYLATES – derived from petroleum
NO BHT – linked to breathing and lung impairment


And Neal's Yard Remedies are 100% free of microplastics/microbeads.

They design, test and manufacture all their own products at their eco-headquarters in Dorset, England, so it's all local British and has a very very high quality. Their range is massive and I love every single thing from it!
So, after all this information let's repeat our bath ritual main points again!
Shower, shampoo, exfoliate
Add Epsom Salt to the bath, fill it with hot water
Hair Mask
Face Mask
Lie down for 20 minutes and enjoy!
It's amazing how much goodness we can squeeze in half hour, so much easier to do it all together at the same time instead of trying to find time for each treatment separately!
And you know what? You can even meditate at the same time! Just concentrate on your deep breathing, count your breaths, and your busy mind will slow down and rest….