What is your favourite breakfasts? In our family we have many – porridge, chia pudding, muffins with a nice cup of coffee, and also eggs, which we mostly eat on weekends. I love eggs in all forms and shapes – boiled, fried, poached, scrambled, omelette, served with vegetables, salmon, avocado, etc.
The only people who don't eat eggs in our house are my children, who have egg intolerance which is a serious thing, so don't mess with eggs if you don't tolerate them well, but if you do – it is an amazing and nutritious food.
Eggs are real beauty food as they have a ton of beauty benefits! First, the protein and vitamins such B12 and biotin help nourish hair, skin and nails. Eggs are also full of Omega 3 fatty acids which give you beautiful clear skin and shiny hair. The amounts of Omega 3 in eggs may vary with the chicken's diet, so you need to look for best organic free range eggs, better from local farmers.
This morning we had a simple but nutritious breakfast – eggs fried with mushrooms and rosemary.
Rosemary gives an amazing flavour to the dish and mushrooms make it very filling. I added some fresh rosemary from my garden to frying mushrooms and the smell in the house was heavenly!


After you fried them, take rosemary out of the pan and then add eggs. Fry for another 5 minutes until eggs are nearly set.


Sprinkle the eggs with salt, chilli flakes and fresh organic rocket a minute before it's completely done.
Transfer to the plate and enjoy!
If you don't have rocket, you can use parsley, coriander, dill, chives or spring onion, they all work very well.


One large egg contains only 70 calories and an incredible amount of nutrition. Vitamins and minerals are essential for our bodies to function healthily and to provide the nutrients for growth and repair of our bones, teeth, skin and organs.

Do not forget to eat the whole egg as some people prefer to stick to egg whites only.
Egg yolks contain high level of the carotenoids lutein and zeaxanthin which are very potent antioxidants that can reduce your risk of developing macular degeneration and other eye problems, protect and improve your eyesight. You cannot get these benefits if you eat only the white of the egg, as these nutrients are specific to the yolk, so please eat the whole thing. The carotenoids in egg yolks are better absorbed than those from plant sources, such as carrots and spinach.

Eating only 2 eggs for breakfast will provide you with so many benefits, as eggs are the real powerhouses when it comes to vitamins and minerals.

I though I will not write a long text here and let the nutrition tables speak for themselves!
(RI = Reference Intake)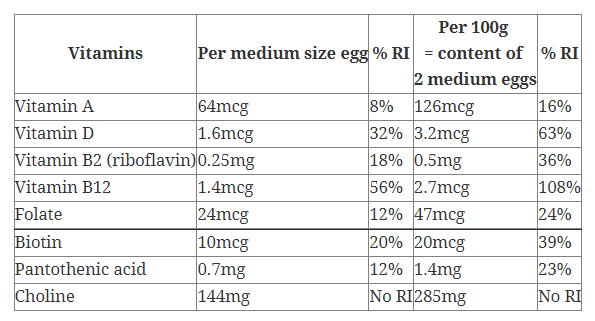 And now you can see what these Vitamins and minerals do for your body!


Sources:
1. EU register of nutrition and health claims made on foods
2. Department of Health (2012) and Finglas P.M et al. (2015) McCance and Widdowson's The Composition of Foods, Seventh summary edition. Cambridge: Royal Society of Chemistry
3. https://www.egginfo.co.uk/egg-nutrition/information/vitamins-and-minerals-in-an-egg