It is a cold winter day in UK, and the only thing which helps is the Facebook news feed from my friends in sunny and hot Koh Samui… You probably have a feeling already that it's going to be a long post

As most of you know , in 2006 I left UK for unforgettable new life experience in Thailand, where I ended up staying for nearly 8 (so far the best of my life) years on the small tropical island of Koh Samui. I met my husband there, my son Jake was born there, and we met there a lot of beautiful people from all different countries, who became our friends for life! Basically it feels like it was my real home, the place where I was supposed to be, and now, back in UK, we all miss Thailand tremendously. One day we will definitely go back, but not yet…


Anyway, while I was living there, I became very interested in Thai cooking and attended a few cooking classes. I cannot say that I regularly cook all the dishes I have learn to cook in those classes, but one particular dish reappears weekly in our house, and this is our favourite Thai Green Curry.

It is not very easy to completely recreate a proper Thai curry in UK for various reasons. We don't have some ingredients here, and the ones which we have unfortunately do not taste the same. You cannot replace coconut milk freshly squeezed from coconut pulp, you cannot replace fresh kaffir lime leaves and fresh galangal, and the list can go on and on. Also, here in UK I live in the area where there are not many Asian shops, actually none… That's why every time I go back to Thailand I come back with a suitcase full of proper fresh curry paste ( which can last a year in the fridge), fresh lime leaves, etc…



Anyway, after many attempts to recreate Thai Green Curry here, I decided to make my own recipe which seems to work perfectly for my family and friends. There are a few "locally influenced" differences, but it tastes divine, I promise.
I don't really make a curry paste myself, probably because I always have it stocked in my fridge, and even if I run out, I can buy the Green Curry paste here. It is not nearly as spicy as the real thing, so I have to use more of it… I do have a recipe for a proper paste from the scratch though – it will be in the recipe in the "Notes" section.


It is possible to buy fresh lime leaves and fresh galangal in UK if you live near Asian shop and I strongly advise you to do so. Dry lime leaves and dry lemongrass do not taste anywhere as good as fresh. If you are very lucky and live near Thai shop, you may even find a proper strong Curry Paste, just ask the shop assistant, they might be able to help. Fresh lemongrass, ginger and fresh chillies I buy in Waitrose.


I used to make curry with pure coconut milk, but lately I found that I actually prefer to mix coconut milk 50/50 with bone broth, it makes curry richer and more comforting.
We make curry with vegetables, with chicken or with prawns. Our family favourite is vegetable curry, but you are welcome to add chicken or prawns.
You can serve it with white, brown or black rice. I prefer black or brown as we don't really eat white rice, but in Thailand you always get curry served with white rice, so it's really up to you which one you want to use. Sometimes we even use quinoa or buckwheat instead of rice, and it still tastes amazing!


Ok, enough of talking, let's move to the recipe!
I took some pictures during the process, so you can see it kind of step by step. Recipe is after the photos.

Prepare all ingredients.
2. Cut the lemongrass in the right way
3.Fry Curry Paste

4. Pour Coconut Milk, Bone Broth, Coconut Cream and Fish Sauce in the pan. Afterwards add palm sugar and all spices : galangal (ginger), lime leaves, lemongrass, lime juice.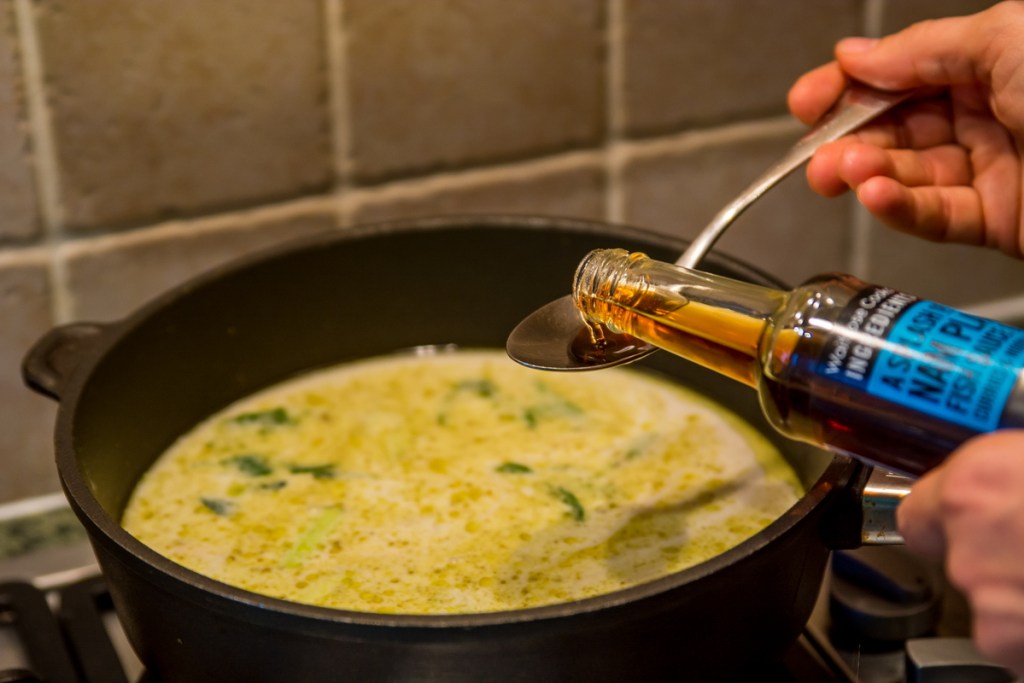 5. Add all vegetables and simmer for 7-8 minutes until they are done.
6. Serve with brown, black or white rice.
Thai Green Curry
Serves 4
Ingredients
1 tbsp Coconut Oil for frying
1-3 tbsp Green Curry Paste (depends how spicy you like it)
1 can (400ml) Coconut Milk ( I use Waitrose Cook's Ingredients Organic Coconut Milk)
1 can (160ml) Coconut Cream ( I use Waitrose Cook's Ingredients Organic Coconut Cream)
400 ml Bone Broth ( you are welcome to replace it for another can of coconut milk)
3 cm of Fresh Galangal or Ginger
4 tbsp Fish Sauce
2 tsp Palm Sugar or Coconut Sugar ( the last resort is Brown Sugar if you don't have palm or coconut sugar))
1/2 Fresh Lime
2 Thai Red or Green small chillies ( optional)
5-6 Fresh Lime Leaves torn by hands in halfs
1 stalk Lemongrass cut at 45 degree angle on 1,5 cm pieces.
A few Basil Leaves
Vegetables - whatever you have: baby corn, button mushrooms, broccoli, cauliflower, brussels sprouts, green beans, aubergines, courgettes, bell pepper, green peas, kidney beans.
If you wish, you can add 300 g of chicken breast cut into small pieces or a pack of prawns.
Instructions
Heat the coconut oil in the pan.
Add the green curry paste and stir, cooking for about 2-3 minutes.
Add 160 ml coconut cream. keep stirring for another 2 minutes.
If you use chicken - add it now to the pan, cook, stirring for 2 more minutes ( omit that step if you only use vegetables)
Add coconut milk, bone broth ( if using), galangal or ginger, lemongrass, lime leaves, fish sauce and palm sugar. Squeeze 1/2 lime, add the juice, discard the lime.
If you like your curry very spicy - add fresh chillies, sliced diagonally, seeds removed.
Let it simmer for 5-7 minutes to get all the flavour from spices.
Add all your vegetables and cook another 7-8 minutes until they are done.
Do not overcook, you don't want your veggies to became too soft and soggy.
When it's done - stir in a few basil leaves.
Serve with rice (I use brown rice, although in Thailand they serve it with white rice)
Enjoy!
If you wish to make a Green Curry Paste from scratch, here is the recipe
1 tsp coriander seeds
1/2 tsp cumin seeds
10 small green Thai chillies, chopped
1 stalk lemongrass, finely sliced
2 shallots, peeled and chopped
1 tsp sliced galangal
1 tsp chopped coriander root
1 tsp ground black pepper
2 tbsp sliced kaffir lime leaves
1/2 tsp lime zest
1 tsp shrimp paste
1 tsp salt
Toast dry seeds in the pan, then grind them in the pestle and mortar until fine. Put remaining ingredients in the mortar and pound with a pestle until you get a paste consistency.